Facebook maintains its place as the number one social platform, for now
Wednesday, March 28, 2018 Kathy Vass Categories: Social Media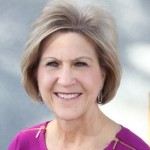 By Kathy Vass, Executive Director, PR & Social Media
Facebook's had a few bad days lately, with headlines about the social network's data privacy concerns affecting everything from the user experience to the company's stock price.
This latest social media controversy has prompted #DeleteFacebook and #RegulateFacebook campaigns, but will the intense scrutiny and momentary backlash from consumers and lawmakers have a lasting impact?
A new study released by eMarketer shows that almost 200 million people, or 60.5% of the U.S. population, will use a social network at least once a month during 2018. That's an increase of 2.6% compared with 2017. And for now, Facebook maintains its place as the number one social platform, reaching 60.6% of internet users. But by 2022, its share will slip to 60.2% mainly due to the ongoing defection of teenage Facebook users, research shows.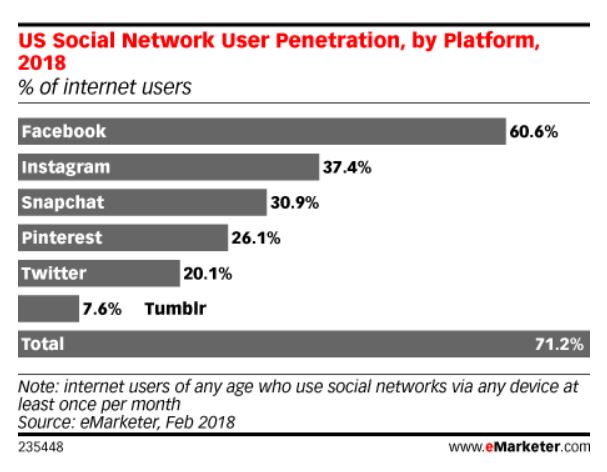 This year, the number of Facebook users is expected to increase 0.9% to 169.5 million, driven by the continuing late adoption of the platform by older adults. However, there will be declines between 5.6% and 9.3% among users under 25, for a loss of 2.1 million, the study predicts.
The biggest beneficiary of Facebook's downturn will be Snapchat, according to the study. By the end of this year, 68.0% of internet users ages 12 to 17 will be using Snapchat, compared with 47.2% on Facebook and 43.6% on Instagram.
Instagram's user base is expected to increase 13.1% to 104.7 million. Those primarily responsible for this growth are adults 35 and older who are creating profiles to connect with younger family members that are no longer active or are less active on Facebook.
These insights are drawn from eMarketer's latest report, "U.S. Social Network Users: eMarketer's Estimates for 2018–2022." The report includes eMarketer's forecast for U.S. social network users, mobile messaging app users and social platform users, including Facebook, Instagram, Pinterest, Snapchat, Tumblr and Twitter on each device.
Here are other interesting stats from the study:
•   Facebook is a mobile-first social network, and 93.0% of Facebook users will log in via a mobile phone this year.
•   Millennials make up Instagram's largest age group, representing nearly half of its user base this year.
•   More than 56% of female social network users will access Instagram this year, compared with 48.7% of male social network users.
•   Approximately 36.6% of U.S. social network users will access Pinterest at least once a month this year, up 5.4% over 2017.
•   68% of Snapchat users said the most important feature of the app was chat and photo messaging, while 28% named Stories.
•   Twitter has carved out a niche as a social media news source, helping it stand apart from the competition. eMarketer anticipates the number of Twitter users will increase 2.1% to 56.2 million in 2018, accounting for 28.2% of U.S. social network users.