Event Management: Up Close and Personal
Wednesday, July 3, 2013 Julie Froehlich Categories: Event Management
After producing events for 16 years, I think I can safely say, "I've seen it all," from event catastrophes to unforgettably great moments. While I'm not going to tell you all my stories (or secrets!), I do believe professionals in the events industry have an innate ability to adapt, improve and learn.
We adapt when bad weather grounds a fleet of helicopters scheduled to provide entertainment at an outdoor event.
We improve after we're told that the Wi-Fi at the COBO Center in Detroit, Michigan, cannot possibly support every mobile device present at the North American International Auto Show.
When an event participant sends us a thank-you note after an event, we learn that the personal touch of leaving snacks in his hotel room enabled a diabetic to maintain his blood-sugar level before dinner.
In fact, I think that is one of the most important things I've learned. When managing events large or small, the attention to detail on a personal level is often what makes an event "great" for the speaker, participants and host.
Think Personal, even for Large Events
Digital communication (e.g. texting, email) and digital events (webinars) are now a part of our everyday lives. But what do they lack? Why will they never fully replace face-to-face meetings and live events? They don't have the comfort or excitement of human interaction. They lack a personal touch.
What do I mean by "personal touch"? Do I go around touching every person? No, but I try to touch their lives with something personal. I'd like to share one example of how to add the personal touch, and I promise to share five more in a future blog post.
Pre-event Personalization
Did you know that even before the event starts–while you are still in the final stages of event planning– you can add a personal touch?
How? Develop and use a microsite for event registration.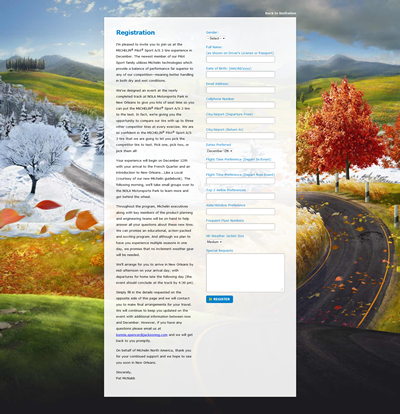 No matter how large or small your program is, you should be using a microsite for registration.
Why? Registration sets the tone for the event.
Do you have a Cirque Du Soleil theme? This is the perfect time to introduce it. Build excitement; inform the participants of what they can expect. It also shows them that you are planning and preparing a program that suits their every need.
Then ask for their participation. Once they register, send a confirmation letter via email or directly from your microsite. (If you've received a credit card payment, a simple payment-confirmation email is necessary.) But also consider a personal note.
Address them by first name.
Offer the weather forecast for easy packing.
Tell them the best time to secure a flight, or offer to secure it for them.
Let them know which airport is closest.
Give them specific instructions about airport transportation and luggage pick-up.
Include the hotel contact name and number plus group reservation information.
Close with your name and direct line in case they have any further questions.
When you are the event producer investing hours into planning and preparing for an event, make the choice to be personal.