Entering Agency World
Wednesday, August 10, 2016 Jackson Categories: Account Services
By Jessica Pate, Account Coordinator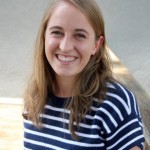 Why would a perfectionist, wanna-save-the-world type with a communications and sociology background and a passion for efficiency, LinkedIn, great photography and delicious food choose to work at Jackson Marketing, Motorsports & Events? In addition to the being drawn to the great reputation and company culture, I wanted what many in the communications field want: "agency experience". My favorite things were proofreading (call me crazy—I don't care), communicating relevant information, managing events and working with creative people.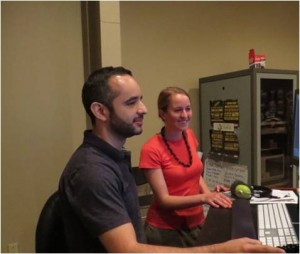 Based on my research and career goals, I was looking for an account coordinator role at an established marketing agency. After reviewing the postings in Greenville, South Carolina and doing several interviews, I wanted to work with the talented, interesting and respected people at Jackson. Three long interviews later, Jackson added me to the roster, giving me both a new email address and a nice challenge. And the food regularly found around the office does not disappoint.
In my role, the juggling is constant. I speak with about 15 people each day and answer numerous client, publication and internal emails. Creative briefs and kick-off meetings are important; and yes, sometimes we write on the wall in dry-erase marker. There are a lot of Excel spreadsheets to track projects, contact information, payments, media due dates and more. I've learned about media trends, the quirks of web design, and trade publications. Based on the time of year—be it trade show season, vacation season or end-of-the-year planning time—my daily schedule could be chock-full before I read the first email or entirely unknown until something pops up (possibly needing to be fully completed within two hours). When the inevitable unexpected things happen, I work with our team to coordinate everything needed to keep things on track (emphasis on coordinate).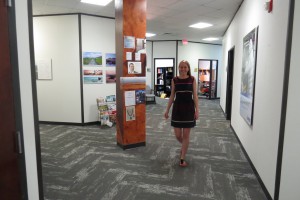 Each brand brings with it particular challenges, successes, personality, goals, strategies (or lack thereof) and projects. Since starting at Jackson, I have had the opportunity to work with 24 clients on far more projects than I can count. Needless to say, my timesheet entries are quite entertaining.
I have assisted in updating websites, scripting tips to inspire salesmen, printing posters for a very large non-profit fundraiser, reporting public relations successes, installing a crime scene-style chalk line drawing of a forklift, envisioning and shipping tradeshow backdrops, touring a chemical plant, shooting and editing video footage of a concrete yard, updating company logos, placing and developing a year's worth of digital ads for a capsule manufacturer, perfecting packaging for toilet paper to be sold at a major retail outlet, designing the look and feel for a railroad company app, managing the fulfillment of Jackson's Christmas card, and selecting the perfect photo of a cashmere scarf to illustrate the luxury provided by an automotive interior client.
There is a lot going on in agency world. We solve client challenges by drawing on our diverse experience and educations, and we maintain a high level of quality by brainstorming, concepting, proofing, refining, presenting, revising and refining some more.
Marketing agency life brings business management, communication and creativity together in an intriguing, important and relevant way. I am honored to serve on the Jackson Marketing Group team here in agency world.