Remember when these slang phrases were popular?
"I pity the fool!"
"Whassup?"
"Oh, snap!"
Did you test the phrases before you really knew what they meant? Most likely, you learned pretty quickly when to use them . . . and when they were worn out . . . so you wouldn't be dubbed a moron.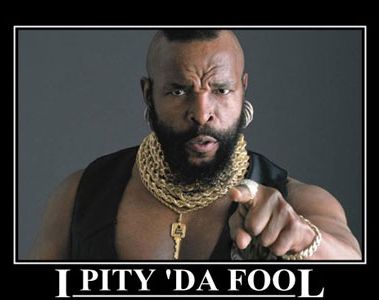 If you're looking for the latest in marketing buzzwords, you've come to the right place.  No need to be an ignoramus at the office. Go on, give them a try!
DATA
Big Data: Is this like Big Daddy's little brother? Not quite. Big Data is massive amounts of data, that in order to be analyzed, requires machine-based systems and technologies working on hundreds of servers. "What turned data into Big Data is the amount of information and the speed at which it can be created, collected and analyzed."
Sentiment-rich Data:  Found mostly on social networking/social media sites, this data is full of "likes" and "dislikes." (C'mon, don't you love this blog? Share this post!)
SOCIAL
Social TV:  Twitter drives this trend with its 140-character, real-time, hashtag conversations. Viewers tweet their TV-related comments using designated hashtags while simultaneously watching the presidential elections, a reality TV show or the Super Bowl.
Social Care:  Whadoyoucare…? Social Care is the new customer care. Engage with customers in real time using social platforms such as Twitter, Facebook, blogs and forums. Often customers will come to your profile page to ask a question, give a review or make a complaint; but sometimes they'll just post comments about your brand on their own page.
Social Listening:  This type of "listening" is monitoring the social sphere. Consumers are listening to comments and reviews posted on social platforms; brands should be listening too! (And hey, since they're listening, post relevant content to build that consumer/brand relationship.)
ADVERTISING
Native Ads:  Newspapers have advertorials. TV has infomercials. Now, websites have native ads. According to The Washington Post, "The newest wave of online marketing—so-called 'native ads'—is pushing even further across the lines that separate news content from advertising. Such ads mimic the look and feel of a website's editorial content." This term also is used for ads designated for a specific site—i.e. that ad is "native" to the AOL platform.
Social Ads:  Marketers being able to advertise on social platforms are like kids in a candy shop. Who wouldn't want them all? (But wait, strategy before results!) Users being fed social ads they view as irrelevant only turns them off to your brand.
Mobile Ads:  A subset of mobile marketing, advertising on mobile devices is still a growing segment. U.S. mobile ad spending is predicted to increase from $790 million in 2010 to $4 billion in 2015. Available mobile ad formats include messaging, display and search.
Display Ads:  What were once billboards, fliers and posters, display ads are now best known online in the form of web banners. Text, images, video or Adobe Flash can comprise display ads. Google Adwords boasts about its super-easy Display Ad Builder that makes display ads a viable option for any business owner.
MEDIA
Shoppable Media:  Video or print media that allow viewers to immediately purchase exactly what they see in the video or image. How's that different than the old-fashioned JCPenney catalog? The idea is to combine the online shopping experience with the brick-and-mortar experience. Shoppable media includes interactive store maps, kiosks featuring products not available in store, digital catalogs, videos with "tagged" products, and more. Here's an example: one large retail chain created a 3-part video mini-series just so consumers could immediately purchase the home decorations on set or clothing the actors were wearing.
Now you're up to speed on the latest marketing lingo. And when you use one of these phrases and a coworker gives you that deer-in-the-headlights look, resist the urge to blast back, "Here's your sign!" It's so 2005.