Build Your Brand, Customer Base With A Social Media Takeover
Thursday, December 7, 2017 Kaitlin Clark Categories: Social Media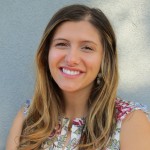 By Kaitlin Clark, PR Representative & Social Media Specialist
A social media takeover occurs when you invite someone to take control of your account for a fixed period of time. While the thought of relinquishing control of your astute social media strategy, consistent brand voice and perfectly curated content may strike fear into the hearts of social media managers everywhere; a well-executed social media takeover can truly benefit your brand.
So, what's the secret to executing an effective social media takeover? PLANNING! These six steps will help you plan a social media takeover that will flourish.
A great place to start is with a set of guidelines that defines what's expected from the takeover guest. It's important that they understand your brand's standards, while still being able to post the content that's specific to their brand. The guidelines allow the guest to stay on-brand while still maintaining their creative freedom. Defining key information is VITAL in the success of a social media takeover.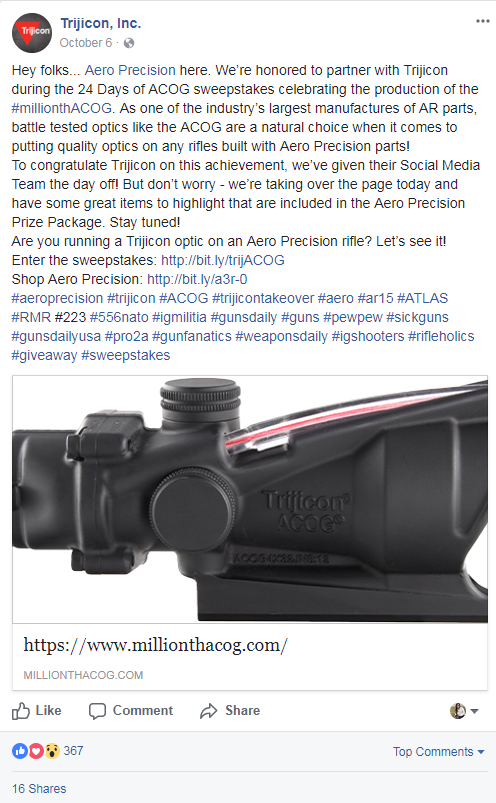 One of our clients, Trijicon, hosted a 24-day social media takeover during the month of October. Trijicon's brand personality is professional, respectful, knowledgeable and appropriate. To maintain the brand integrity and clarify the takeover process, some of the guidelines and key information that we defined were:
1. No profanity, lewd references, sexualized content, etc.
2. Guest will share a maximum of five posts per day related to their product
3. The first post of each day should be introductory
4. Takeover will be from 9am to 11pm EST
5. Guest will send content to host two weeks prior to takeover date
You get the picture. With so many moving parts, it's easy for something to go wrong if everyone isn't in sync.
Determine the Takeover Guest
When choosing a takeover guest, it's important to select someone, whether a business or an influencer, who is relevant to your industry. Trijicon designs and manufactures high quality, any-light aiming systems, world-renowned for its innovative applications of tritium and advanced fiber-optics. For the 24-day takeover, they selected a mix of their Original Equipment Manufacturers and Partners. In total, there were 29 takeover guests. Once the takeover guests were selected, they all received the guidelines and key information so that we all understood the takeover goals.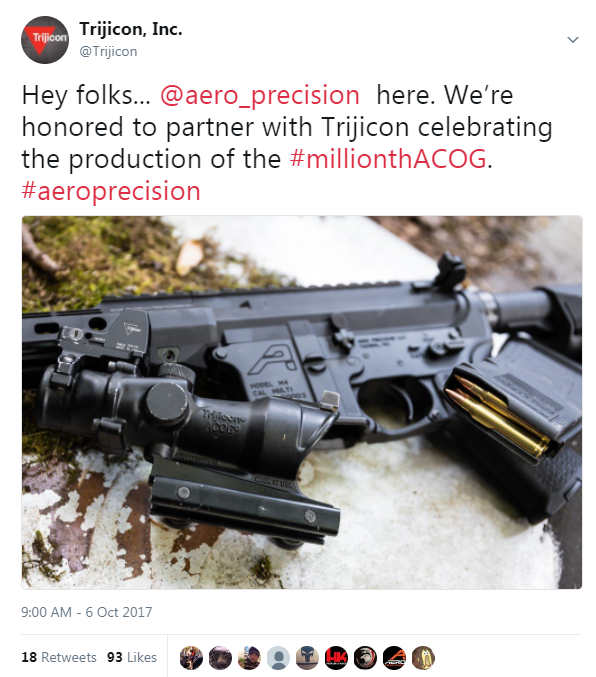 Select Takeover Platform(s)
Trijicon made the decision to host the takeover on all platforms where they have a presence: Facebook, Twitter and Instagram. However, when choosing your takeover platform, consider what you're trying to accomplish. If you want to host a real-time, raw, creative and entertaining takeover, Snapchat would be great for you. If your goal is to increase engagement, then hosting a Twitter Q&A where you instruct your followers use a specific hashtag to submit their questions is a great platform choice for you.
Set Goals
Trijicon hosted a 24 Day Giveaway on a microsite that Jackson created. From the social media side, the goal was clear: to drive as much traffic as possible from Trijicon social media platforms to the microsite. In turn, those users would sign up for the giveaway. We set a goal for the number of users we wanted to sign up. We also wanted to increase brand engagement. So, the KPIs we set to watch were: New Followers/Page Likes, Engagement, Likes, Shares, Comments and Link Clicks.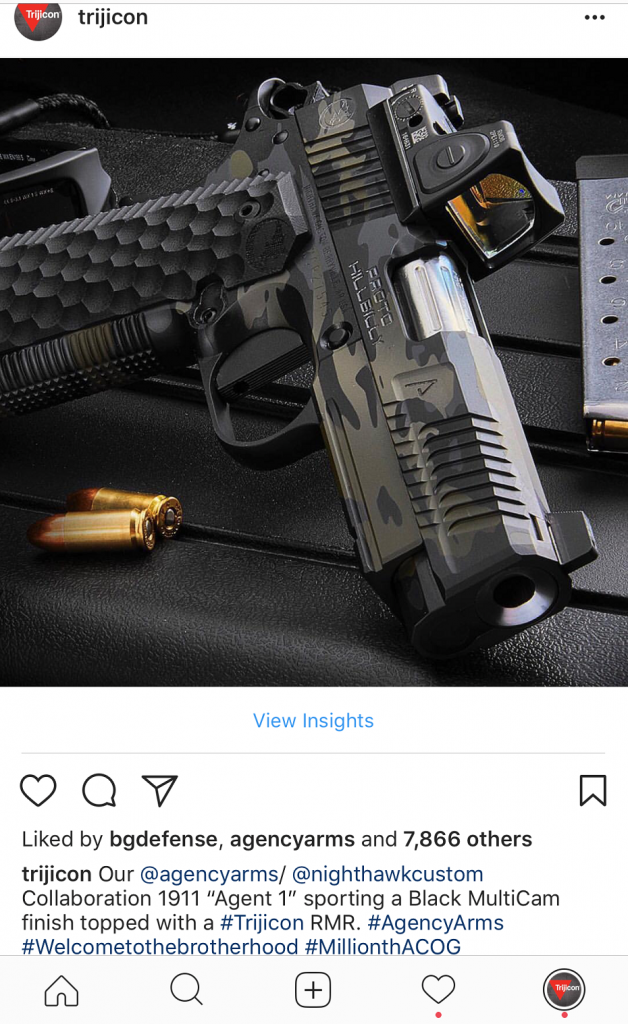 Promote Takeover
For your takeover to be successful, it's important to promote it properly. We started promoting the 24 Day Giveaway two weeks prior to the campaign through various promotional videos and photos. This allowed ample time to inform and excite the audience on what was to come. In the guidelines we sent to the hosts, we required that they also promote the takeover on their own channels. Cross-promoting is a great tool to leverage when you're planning a social media takeover.
 Execute Takeover
With up to 15 posts per day across three different platforms, organization was the key to success for Trijicon's social media takeover. Trijicon opted to host a semi-full takeover, where the guests submitted to us the content that they wanted posted. This guaranteed that all content was accurate, posted correctly and in a timely fashion. If you're interested in greater authenticity and less hassle, then a full account takeover may work for you.
Closely monitoring the posted content is a necessity. Due to the higher volume of content, you're sure to have more comments and questions. Quickly clarifying any misunderstandings, putting out fires or answering product questions during the takeover is essential to maintaining a successful campaign.
One of the most helpful tools used throughout the takeover was a scheduling platform. Scheduling all content ahead of time, and at the most optimal time, gave us greater ability to monitor and engage with our audience during the campaign.
Review Takeover
Congratulations! You've completed your social media takeover, so the only thing left to do is to compare results to the goals that you set at the start of the campaign. Once you review your metrics and goals, you'll truly be able to see if your takeover was successful. We exceeded our engagement goals with all KPI's increasing, some up to 800%. We were also successful in pushing traffic to the microsite, with 60% of website traffic coming from social media. And we exceeded our goal for giveaway signups by 144%.
Social media takeovers can be a lot of work; but with diligent planning, organization and monitoring, they can bring a lot of reward. Our takeover with Trijicon was clearly a huge success, and yours can be too when following the six steps listed above.