Be relevant while making competitors irrelevant
Tuesday, April 9, 2013 Jackson Categories: Book Reviews, Branding
Is relevance the operative word in your brand's strategy?
If it isn't, pick up a copy of David Aaker's book Brand Relevance: Making Competitors Irrelevant and you'll quickly and convincingly learn why it should be.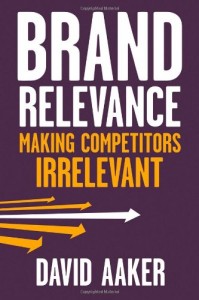 The inspiration for the book comes from his observations of how brand relevance, or lack thereof, could explain so much about brand successes and failures over the past 10 years. He advocates that there are two ways to compete in existing markets: gaining brand preference and making competitors irrelevant.
Brand Preference
The most commonly used route to winning customers and sales focuses on generating brand preference. For example, a consumer decides to buy a category or subcategory such as an SUV. Brands in the considered set in this SUV example are Lexus, BMW and Cadillac. The consumer chooses BMW, meaning this brand had to be more visible, credible and attractive than the competing brands.
Brand Relevance
The strategy here is to change what people buy by creating new categories or subcategories (Apple iPod, Healthy Choice) that alter the ways they look at the purchase decision and user experience…the goal being to not simply beat competitors, but to make them irrelevant by enticing customers to buy a category or subcategory for which most or all alternative brands are not considered. Examples supporting this approach are extensively covered in his book. No surprise, they include brands like IKEA, Apple, Enterprise, Salesforce.com and Toyota Prius.
In fact, one of the best parts of this book is that there are over 25 very detailed case studies in food, automobile and retail categories that cover both successes and failures in the brand relevance battle. What's more, key takeaways are nicely summarized followed by thought-provoking discussion points at the end of each chapter.
His position is clear: The way for a company or organization to get on top of its strategies in times of rapid change is to understand the critical importance of brand relevance…to drive change through innovation that will create new categories and subcategories making competitors less relevant.
His book does a great job of showing the way to make this happen by thoroughly covering four key objectives:
Provide a process by which a company can create new categories or subcategories
Clearly define the brand relevance process and demonstrate its power as a way to drive and understand dynamic markets
Demonstrate the risks associated with the threat of losing brand relevance, how it happens and how it can be avoided
Provide a profile of what characteristics an organization needs to have to support a substantial or transformational innovation that will lead to new categories or subcategories
Conclusion
David's closing paragraphs sum up the risks/rewards of following the brand relevance strategy:
"Because engaging in innovation is uncertain, risky and expensive does not mean that a firm should not be aggressively innovative and invest in organizational change to become more supportive of innovation. The fact is that it is also risky to be a trend responder and an even greater risk to be a trend-aware firm, one with such tunnel vision that the firm does not sense or chooses to ignore market dynamics.

"The message is to be aggressively innovative but with recognition of the challenges and investment required in both individual projects and organizational changes. The successful organization will actively manage the difficulties and uncertainties of innovation, which will allow it to seize opportunities to make competitors irrelevant or less relevant and avoid seeing a healthy business drift into irrelevance."