B2B Marketers Rate the Effectiveness of Social Media Marketing
Friday, July 18, 2014 Jackson Categories: Social Media
Exactly how effective is social media for today's B2B marketer?
If you asked many B2B marketers, my guess is they'd say somewhere between, "all I know is we do social media marketing," and "we're taking it a step further by tracking and measuring for effectiveness."
According to AdAge's "B-to-B Marketing Fact Pack" published May 2014, "b-to-b marketers are eagerly embracing social media, but many still have questions about its effectiveness."
Maybe you can relate to that statement. You have questions about its effectiveness too.
With Facebook suffocating organic reach, Twitter feeds that are a mile long and Instagram refusing to create an easy way to toggle between personal and business accounts, we are often left wondering whether we're using our time wisely on social spaces and how effective our social content really is.
How effective do B2B marketers say their social media marketing is?
We created the graphic below based on data from the 2014 B2B Content Marketing Trends – North America study from Content Marketing Institute and MarketingProfs. The chart shows how many B2B marketers use each social media platform and how effective they rate each to be.
91% of B2B marketers are using LinkedIn, but only 62% rate it as effective.
While 55% of B2B marketers use Google+, a mere 21% of those users rate it as effective.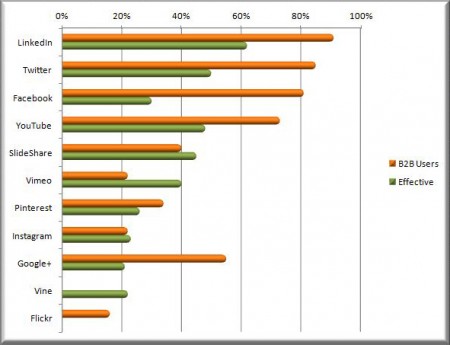 Keep in mind, effectiveness is subjective.
Maybe these B2B marketers aren't using the social platforms guided by a well-defined strategy. Perhaps they're using the wrong platforms and haven't reached their target audience. Or perhaps, even though social media has been around for 10 years now, the value of social media marketing is still unproven.
How effective would you rate your social media marketing? Are you using social media for more than just brand awareness? Are you actively tracking and measuring more than just follows? We'd love to hear your feedback in the comments below.