A Sneak Peek at Where the Best Advertising Will Be in 2015
Tuesday, January 13, 2015 Jackson Categories: Advertising, Marketing
Whether you've watched the show or not, if you're in the ad industry you probably can't help but overhear a few lines from Mad Men about advertising. In Season 1, Episode 1, Don Draper shoots off his famous line defining advertising and happiness:
Advertising is based on one thing: happiness. And do you know what happiness is? Happiness is the smell of a new car. It's freedom from fear. It's a billboard on the side of a road that screams with reassurance that whatever you're doing is OK. You are OK.
Did you know in 2015, we can echo his words? Advertising is all about a client-first or customer-first approach. It's about their needs, their happiness.
Perhaps that's exactly what has grown this industry from $11 billion in 1960 to $180 billion in 2015. Let's keep that in mind as we look at what to expect from advertising in the year ahead.
Advertising Spend
Bullish Predictions for 2015 Global Ad Spend
If you can remember way back to last year, Zenith Optimedia, GroupM and Magna Global's forecasts for global ad spend were widely varied, and all were inflated from the actual 3.9% growth.
For 2015, the three major research firms are in agreement and their global ad spend predictions are nearly identical.
What is a 4.9% increase in dollar amount? It brings the total measured global ad spending to $538 billion in 2015, based on GroupM's recorded spending from 2014 and predictions for 2015.
Not surprisingly, the biggest spenders are the U.S., China, Japan, Germany and the UK. And the largest forces on spending according to Dominic Proctor, President of GroupM Global, are innovation and demand for new uses of media.
While growth has slowed, we see advertisers pushing for unprecedented levels of innovation that is both impactful and scalable. We believe this increase in demand for new uses of media substantially elevates the available level of learning and creativity, and will benefit the entire marketplace in the long-term.
Steady Growth for 2015 U.S. Ad Spend
Although the U.S. market doesn't hold the title of "fastest growth rate in ad spending" (that title goes to Argentina), the U.S. is still the dominant spender in advertising.
In keeping with last year's Forecast: Big Marketing Improvements for 2014, we will zero in on eMarketer's predictions for U.S. Ad Spend and growth. eMarketer predicts that U.S. marketers will buy $189.06 billion in ads, placing our spending at 31.9% of the global ad market.
Advertising & Content Marketing
"Content Marketing is among the hottest topics in marketing and media," says AdAge.com, so I'm sure marketers are running into it everywhere they go. But when do content marketing and advertising ever collide?
Is content marketing distributed only on brands' websites and social media sites? No, many marketers are using paid advertising methods to distribute their content.
The B2C Content Marketing 2015: Benchmarks, Budgets, and Trends—North America gives us insight into how a majority of marketers are distributing content marketing through paid advertising methods.
Which paid advertising methods do you use to promote/distribute content?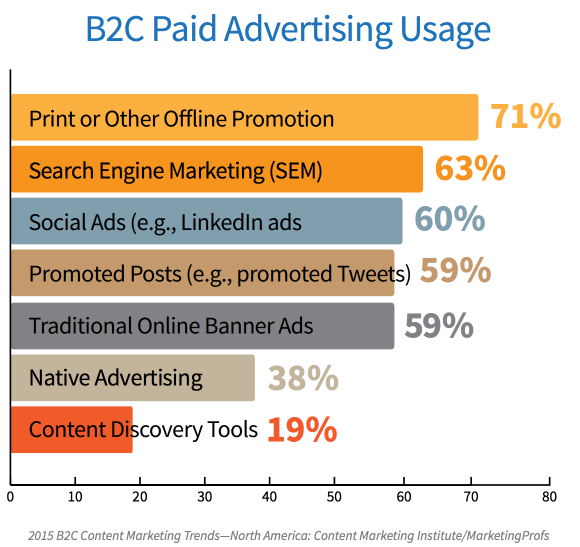 92% of B2C survey respondents said they use at least one of the advertising methods above. Further in the report, B2C marketers answered: "how effective are the paid advertising methods that you use to distribute content?" While 63% of B2C marketers said they use Search Engine Marketing (SEM), only 57% rate it as effective. But for now, this seems to be the paid advertising methods B2C has the most confidence in.
Content Marketing Institute and MarketingProfs published two reports: one for B2C and one for B2B. Here's how B2B respondents answered the same question on which paid advertising methods they use.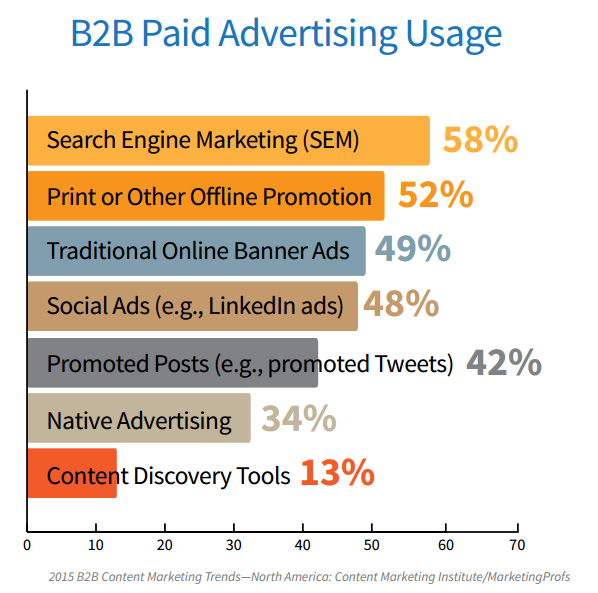 80% of B2B survey respondents said they use at least one of the advertising methods above. When comparing the two, B2C marketers used more paid advertising methods than B2B marketers.
Similar to the B2C report, B2B marketers answered: "how effective are the paid advertising methods that you use to distribute content?" Search Engine Marketing (SEM) is B2B's most used and most effective paid promotion method. Promoted tweets landed a bit higher in "effectiveness" than social ads. And B2B marketers reported that native advertising is 10% more effective than traditional online banner ads.
Trends to Watch in 2015
Not much changes in 12 month's time, but we've seen trends over the past few years that will continue. Trends in advertising are shifting, being driven by demand for mobile, wearables and the Internet of Everything.
Mobile is changing how we search, how we buy, how we consume content, how we interact with advertising. Forrester calls it the mobile mind shift: "the expectation that I can get what I want in my immediate context and moments of need." Smart advertising will be in those mobile contexts and meet buyers in their moment of need.
But one thing hasn't changed. That advertising is all about the customer. Keep the words "client-centered" or "customer-centered" foremost in your mind this year to find success in advertising. Stay client-centered for the win!