8 Traits your Vendor must have
Friday, September 27, 2013 Julie Froehlich Categories: Event Management
Outside vendors are often critical to the success of marketing projects, and certainly when creating large events. Yet, vendor management can be tricky, especially if you have multiple vendors for an event.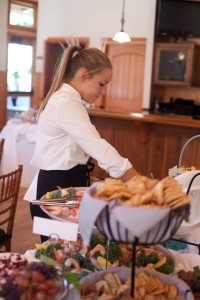 Some venues require you to work with their contracted vendors. But when you have the chance to choose your own, what should you look for in a vendor? How do you know if they'll be a good fit for your event and if they'll work hard to make your event a success?
After working with hundreds of vendors over the past 15 years, I'll share with you eight important traits that your vendor must have.
1.  Time Management
A vendor must meet your deadlines during the pre-event coordination and set up of the program.  It's important for them to arrive EARLY (not on-time).  You should sense urgency from your vendor to meet your timeline.
2.  People Skills
This is very simple. Are they easy to communicate with?  Do they understand your needs?  While the vendor representative may be a kind person, I'm looking for professional, smart and efficient communicators.
3.  Proactivity
Being proactive is critical in the event planning business.  Is your vendor able to anticipate what needs to be done, and then do it?  I love it when a vendor goes ahead and does something on my behalf without me having to ask.  They are always a step ahead, and they make my life easier.  And once I'm on-site, they just step in, participate and help wherever they can.
4.  Organization
Being organized is so very important.  There are so many things going on during the course of planning an event, especially on-site.  Your main contact needs to be on-top of the schedule, the task list and all of the requests.
5.  On-Site Communication
Even though you've worked for months planning and finalizing details and agendas, we all know that once you get on-site – everything can change in a moment's notice.  Flights cancelled, sick guests, guests changing assigned groups or meeting rooms. Communicating on-site is easier with texting and smartphones. (How did we do it before? Handheld radios which are so old-school now.) Be sure to ask them how they handle on-site communication. Your vendor must be able to respond immediately – wherever they are!
6.  Financial Stewardship
When a vendor reminds me that what I'm asking costs more and delivers a cost savings idea instead, that's when I know I've found a good partner!
7.  Respect and Confidentiality
The business that you're in is confidential – no matter what your business or product is.  You want a vendor that understands when to share information, and who to share it with. If you catch your vendor sharing information that they shouldn't be sharing, let them know immediately.
8.  Flexibility
I appreciate a vendor that takes everything that I throw at them, adjusts and performs at the same level or higher every step of the way.
So whether you are a brand-new or seasoned event manager, remember these eight traits to help you choose great vendors. (Or if you are a vendor reading this article, use these eight traits to guide you in hiring great employees that'll make you a 5-star vendor!)