Social Media is Key to Today's Customer Service
Thursday, October 4, 2018 Kathy Vass Categories: Customer Service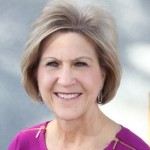 By Kathy Vass, Executive Director, PR & Social Media
The first week of October is recognized internationally as Customer Service Week.
Participants in this weeklong celebration of the importance of customer service include companies in industries that interact with the public like financial, healthcare, retail and hospitality, along with those that don't, like manufacturers and marketing firms.
In honor of Customer Service Week, we thought it might be a good time to address the importance of a collaborative relationship between marketing and customer service, especially at a time when consumers increasingly say that they prefer to use social platforms to communicate and interact with businesses.
Today's consumers say that one of the key benefits of using social platforms to engage with companies is that it increases the level of brand accountability. Making their concerns public, they say, helps ensure a quicker and more satisfactory outcome.
The customer service side of social media begins with response times. A recent survey by Sprout Social shows that 84% of consumers who contact a company via social expect a response within 24 hours. If the comment or complaint comes via Twitter, the expected response time is within the hour.
So, what are consumers trying to gain by calling out a company on its social platforms? Oftentimes consumers simply want the company to acknowledge their issue or receive an apology. In other words, they want accountability.
Here's what a 2017 survey by Sprout Social found: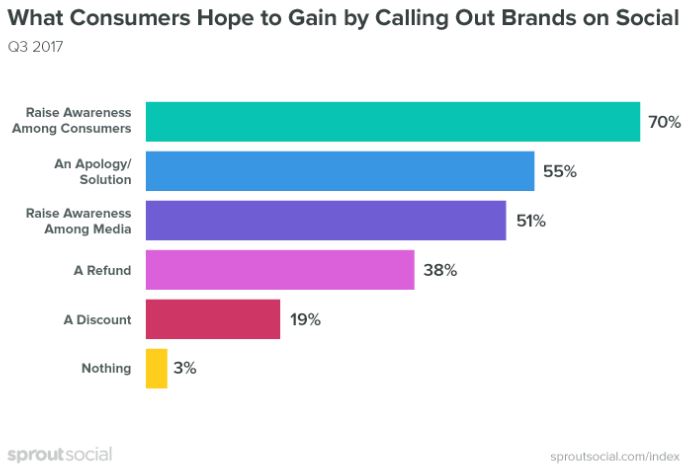 At Jackson, we handle social media management for several clients. That includes content creation, posting, monitoring and reporting. As part of the monitoring function, we routinely field customer inquiries about products and services and handle customer concerns. And while we become well versed in our clients' offerings, we often engage our clients' product specialists and customer service reps to make certain their customers receive timely and satisfactory responses and resolutions.
A system that allows members of your marketing and customer service teams to participate together in the social media management process will lead to a better customer experience. Here are a few tips that can make timely responses to customer inquiries a bit easier:
Develop a List of Frequently Asked Questions
Most companies can identify common questions asked by their customers. Drafting answers to these frequently asked questions will allow you to respond quickly to many inquiries.
Identify a Feedback Channel
For more in-depth questions, send customers to an appropriate feedback channel, such as the email address of a customer service representative or a feedback form.
Engage Product Specialists or Brand Managers
Having product specialists or brand managers as part of the social media customer response team is a great way to ensure your customers receive expert information in a timely manner. Develop a customer response plan, then review it with the team so that everyone understands their role and the expected response times.
Bottom line, consumer expectations continue to rise, especially with a new generation of consumers who don't know a life without social media. It's not enough to simply have a social presence, that presence must be active and responsive. In other words, you must be social on social media or fall further behind as the medium continues to mature.