How My Video Went Viral: 95 Million Views In Five Months
Thursday, March 16, 2017 Daniel Lyles Categories: Social Media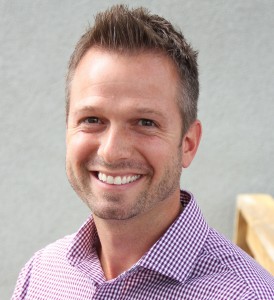 By Daniel Lyles, Account Executive
Working in advertising, we sometimes hear a client say, "Let's make a viral video." If it were only that easy, we'd have clients lining up down the street. While I don't have the secret sauce, I did execute the plan for a viral video, and it worked behind the power of good marketing and perfect timing.
Most of us in agency world think about coming up with the next big idea. We don't always get to go way outside the box in a B2B agency, so we sometimes help out a friend or a little guy after hours. For me, it was local artist Joe Everson who's not such a little guy any longer. He's been on Fox & Friends twice, and performed for the Milwaukee Bucks,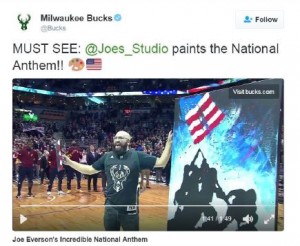 Florida Panthers, San Antonio Spurs, University of Alabama, Ole Miss and University of Arkansas to name a few. He's been featured on ESPN SportsCenter, Fox Sports, SB Nation, NHL.com, CBS Sports, USA Today and Huffington Post, and has received nationwide coverage from media and celebrities. Already this year, he's booked to perform in more than 45 cities—all because of a few viral videos that to date have had more than 95 million views.
It all started during a strategy meeting at our agency, Jackson Marketing, when we were trying to come up with ideas for a client that manufactures backhoes, skid steers and telehandlers for the construction and agriculture markets. The company's European presence is incredible, but it is much less known in North America among longtime players like Caterpillar and John Deere. We knew we had to put some major work into brand awareness, and started what would be months of brainstorming, planning and strategy.
At the time, I had been working for about two years as the manager for local artist Joe Everson and we had been steady in his growth. Having worked for a major art gallery, the art business is a hobby of mine. I wish I could say that art is my hobby, but I'm a terrible painter, so I stick with selling it. Using much of what I've learned working at Jackson, we got Joe to the point of being able to quit his side job and go full time into visual arts. But it wasn't enough. He still was a starving artist.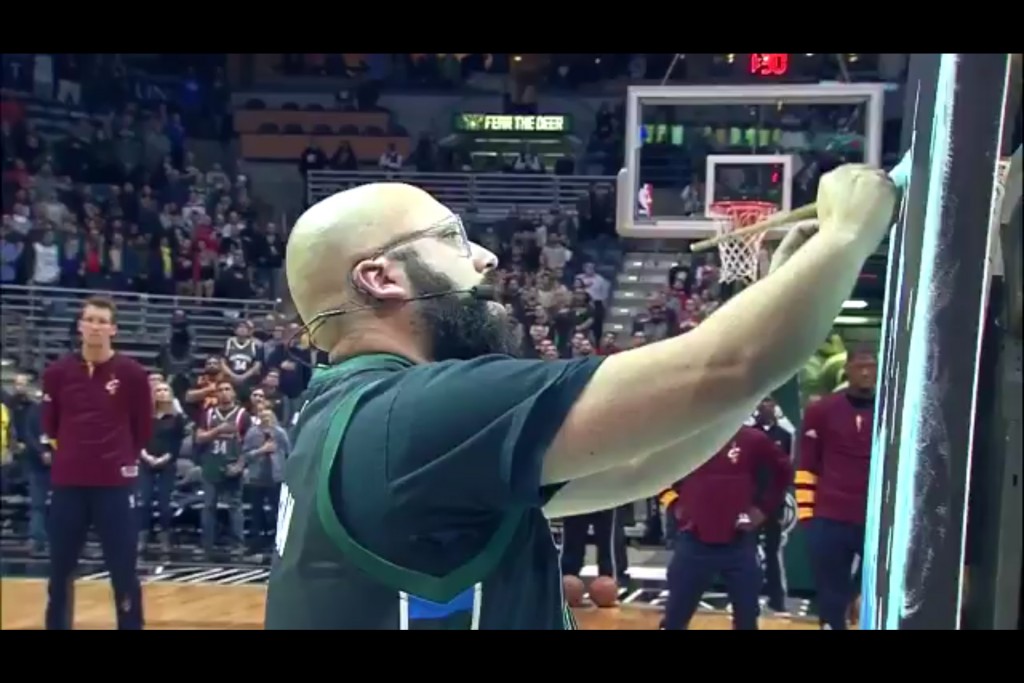 Joe was struggling with the same awareness problem as our construction equipment client. You can be the best artist in the world, but if no one knows who you are, it doesn't much matter. So I pitched Joe an idea in the same way I pitch a client: "Joe, imagine walking onto the infield at Turner Field in Atlanta in front of 30,000 fans. You step up to your canvas and the PA announcer says, 'Ladies and gentlemen, please rise for the National Anthem sung by professional artist and vocalist, Joe Everson.'"
Joe traveled with a quartet a few years back, so I knew he had a great voice. I went on to explain how he would paint a military image in the time it took him to sing the Anthem, about a minute and a half. I could feel his anxiety mounting as a look came across his face of wondering how he would ever finish a painting in less than two minutes. Then I hit him with the finale, "Oh yeah—and you're going to paint the canvas upside down."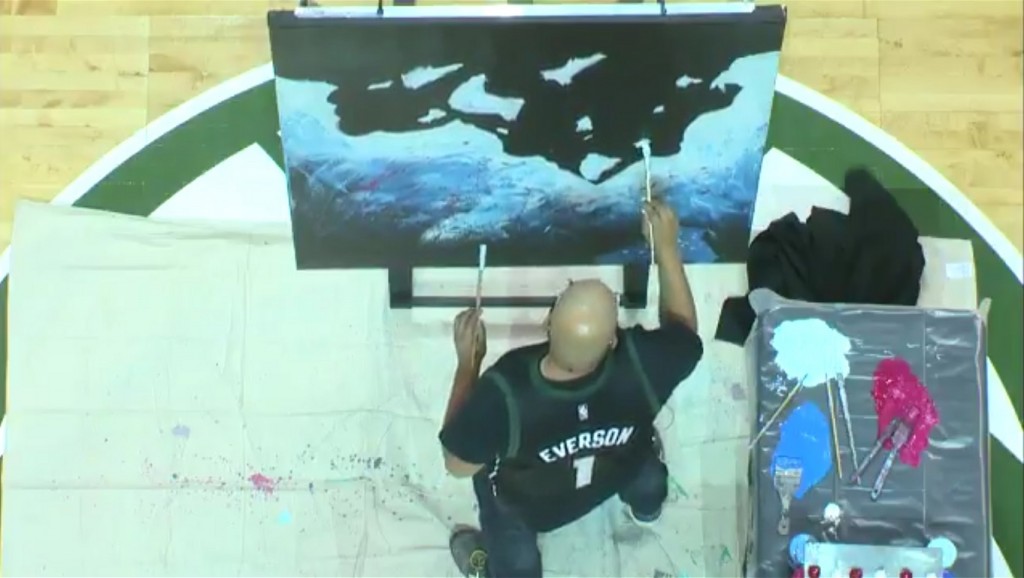 Joe and I worked together on an image that could be painted in such a short amount of time. It ended up being an image to honor Joe's relative who gave his life in Vietnam, the famous Raising the Flag on Iwo Jima, a photograph by Joe Rosenthal.
Six months later we had a finished idea and got on board with the Greenville Swamp Rabbits to have Joe perform it for the hockey fans. I set up four cameras: one shoulder-mounted rig capturing Joe up close so people could see him singing; one directly behind him; one on the Jumbotron to show the arena; and one filming the crowd reaction. I used those videos to make a promotional video. I didn't let any of our friends or families share any footage they had. Nobody knew about the performance except the people who saw it live. I knew it wouldn't go viral unless the timing was right, so I waited.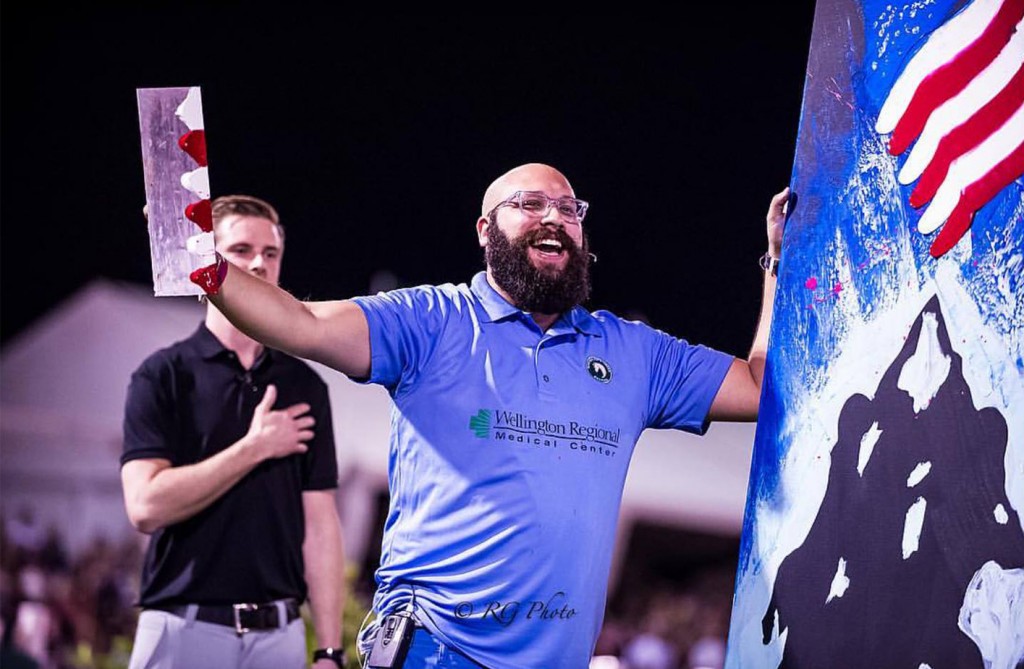 I sent out the promo video in a hidden link on Joe's website to dozens of pro and semi-pro sports teams. I finally got a hit with the Toledo Walleye, an East Coast Hockey League team in Ohio. Joe was scheduled to perform on Oct. 23, 2016. I mentioned this to one of our senior copywriters at Jackson, saying how I was hoping to have the video go viral. He suggested I send out a press release to local news stations, thinking it would make a good human interest piece. At the time, San Francisco 49ers quarterback Colin Kaepernik was taking heat for kneeling during the National Anthem, so he thought Joe's video would make an appealing take on the anthem. Our PR Director at Jackson helped me draft a release and send it to four local media outlets.
Joe sang the anthem while painting at the Toledo Walleye game and it was a huge success. Jordan Strack of WTOL in Toledo tweeted out the video he recorded along with my hidden link. There were 17,000 retweets in a matter of hours, with Jordan's original tweet now at 36,000 retweets. Media outlets and celebrities started sharing the video on their own and before I knew it, Joe's performance broke the internet. I never actually posted the video on any platforms myself. I only set others up to do it.
As Joe was driving back to Greenville from Ohio, a Fox & Friends producer called. We rerouted Joe to New York City where he went on the air at 7:30 the next morning to do the performance live. By 8:00 a.m., I had over 300 emails in my inbox and my phone was ringing nonstop. My voicemail filled up in minutes with calls from sports teams, charity organizations, veterans groups, corporate event planners, television shows and radio stations. It is five months later, and I still haven't caught up.
That viral video changed everything for Joe. The next time a client asks how to make a video go viral, my advice is to come up with an interesting idea and plan the execution, but be patient. Try to time it with a trending news topic and allow someone else to run with it. Creating a viral video often requires the perfect storm, and a little help from friends at a marketing agency.