Commercials Lacked Luster in Super Bowl XLVI
Friday, February 24, 2012 Ashli Jarrett Categories: Advertising
So, I finally figured out who was playing in the Super Bowl this year (see my previous blog to find out why). I'm glad that the Patriots and the Giants kept the game interesting, because I felt the commercials were a little lacking this year.
According to Ad Week, Nielsen reports NBC's coverage of Super Bowl XLVI attracted an estimated 111.3 million total viewers on Sunday night. This is about 0.3 percent above last year's Super Bowl. But let's break that down even more:
The opening kickoff was seen by 99.2 million viewers.
Halftime performance with Madonna was seen by about 114 million people.
Last half-hour of the game (between 9:30 pm and 9:58 pm Eastern) viewership peaked with 117.7 million. This was when Tom Brady threw a last-ditch-effort pass that is now being dubbed as the "Fail Mary."
But honestly, I was disappointed in the commercials in general this year. The ad industry is reporting some reasons for the less than stellar line up, including limited budgets and national brands utilizing dollars elsewhere. What about all of the companies that "leaked" their commercial ahead of time (close to 60% of advertisers this year)? This may be part of the strategy of the campaign for an advertiser, but if the Super Bowl watcher has already seen the ad, where is the excitement?
Then there was the beverage commercial starring Will Ferrell – what, you missed it? You probably didn't see it because it was only aired in one market: North Platte, Nebraska (which happens to be the second smallest TV market in the country). According to BusinessWeek.com, this commercial produced more activity on Twitter than any other national brand. And they only spent $1,500 to run it! What a unique way to create buzz via a social media platform, while not investing heavily in the airtime.
Yes, there were some memorable commercials, and a few of my favorites are below. It just seemed like the quality and excitement wasn't there this year.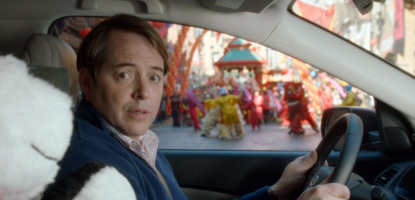 Some of my favorites were:
DOGS! Man's best friend made several appearances in the Super Bowl this year, like the Great Dane bribing his master with Dorito's, WeGo, the Rescue Dog, and who wouldn't love this dog for getting in shape to chase his favorite car? Maybe I'll send my pooch Durango to audition for some commercials!
M&M's Just My Shell: New character introduced, contemporary music with LMFAO, and plenty of teasing leading up to this one.
The return of Ferris Bueller: Thank you, Honda CR-V, for taking me back to 1986.
What commercials were your favorites? And more importantly, which national brands were missing from this year's game?